History
The Type 74 105 mm self-propelled howitzer is only used by Japan. It shares a number of automotive components with the Type 73 Armored Personnel Carrier which was developed during the same time. Komatsu developed the chassis, while the howitzer and turret were designed by Japan Steel Works. The first prototypes were completed in 1969-70. The howitzer was accepted for service in 1974. It carries thirty rounds on board. It is amphibious when using the erectable flotation screen stowed around the periphery of the upper hull, and is equipped with a NBC filtration system.
Only 20 were built, the last being completed in 1978, as it was decided to concentrate on the more efficient 155 mm self-propelled howitzer which was eventually standardised as the Type 75. The 17 remaining Type 74's are attached to the 2nd Artillery Regiment at Asahikawa, Hokkaido, the northern part of the Japanese islands. There are no known plans for this system to be upgraded in the future and, as its range is so short by today's standards, it is expected that it may well soon be phased out of service.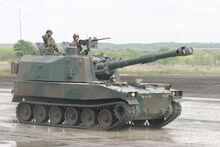 Ad blocker interference detected!
Wikia is a free-to-use site that makes money from advertising. We have a modified experience for viewers using ad blockers

Wikia is not accessible if you've made further modifications. Remove the custom ad blocker rule(s) and the page will load as expected.