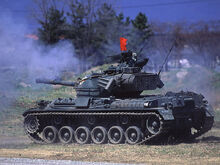 History
The Type 61 (61式戦車) was a main battle tank that was based of the American M47 Patton MBT, developed and used by the Japan Ground Self-Defense Force (JGSDF) and built by Mitsubishi Heavy Industries. Development started in 1955 and the vehicle was first deployed in April 1961. The number in the vehicle's name follows the year of deployment. A total of 560 of the Type 61 were manufactured between 1961 to 1975, when production ceased.
After World War II, Supreme Commander of the Allied Powers (SCAP or aka GHQ in Japan) ceased all military manufacturing and development plants in Japan, resulting in Japan losing the technology needed to build and manufacture tanks and armored vehicles. However, due to the Korean War, SCAP ordered Japan to re-militarize, forming armed police forces (National Police Reserve, later called National Security Force, then finally Japan Ground Self Defense Force) and provided M4A3E8 Sherman and M24 Chaffee tanks. However, the average height of a Japanese person at the time was too small for the M4A3E8, and drivers had difficulty reaching the clutch pedal with their foot. In addition, the M4 was becoming obsolete. The M24, though it was popular among the Japanese crews, was inadequate when facing Soviet T-34-85s, as seen in Korea. Thus, as the tanks in JGSDF service at the time were obsolete/inadequate, the JGSDF was provided with the option of either purchasing the new American built M46 Patton and later, the M47 Patton or develop their own MBT in 1954. Due to the high cost of purchasing American made tanks, and because the M47 did not meet their requirements, the JGSDF decided on developing their own main battle tank, resulting in the development of the Type 61.
In Game
The Type 61 is one of the more uncommon tanks to find on the battlefield, as its playstyle is preferred by only a rather few. It has a great gun, with good alpha damage, good accuracy, and good penetration values. However, its armor is thin and won't repel any shots at all, and its speed is rather slow. Because of these statistic, the Type 61 performs best as a sniper in bigger maps and as an ambushing unit in smaller maps. Combining his positiv stats, this tank is a excellent sniper, or close combat to kill people fast. In close combat, staying on the outsides of the map, will give you a lower change to get hit. Due the lack of gun elevation and armor plus the high profile this tank is an easy prey for T-62s and high rate of fire tanks such as the M48 Patton.
Pros
Great gun with high alpha damage, good accuracy and penetration values
DPM is very healthy
Good gun depression
Respectable mobility
Cons
Armor is thin all aroud
Cannot use APDS or HEAT rounds
Speed is pretty slow
Gun elevation is lacking