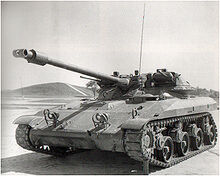 History
The T92 Light Tank was an innovative American light tank developed in the 1950's by Aircraft Armaments. At 18.5 tons and five meters in length, it was designed as an airborne/airdropped replacement for the M41 Walker Bulldog light tank, which was five tons heavier. Though it was designed to replace the Walker Bulldog, the T92 was never accepted into service. The main gun was a conventional 76 mm cannon with a very low profile turret. Little more was exposed than the main gun and two crew cupolas which allowed 50 caliber and 30 caliber machine guns to fire buttoned up. It had a crew of four with a semi-automatic loading system. The engine was moved to the front, which increased protection, and a rear access door provided an escape hatch and protection while reloading. This layout was later adopted by the contemporary Israeli Merkava main battle tank.
Ad blocker interference detected!
Wikia is a free-to-use site that makes money from advertising. We have a modified experience for viewers using ad blockers

Wikia is not accessible if you've made further modifications. Remove the custom ad blocker rule(s) and the page will load as expected.