History
The T-34/85 was a Soviet medium tank which had a profound and permanent effect on the fields of tank tactics and design. It was a modification of the obsolete T-34/76, first deployed in 1940, it has often been described as the most effective, efficient, and influential design of World War II. At its introduction, the T-34 possessed the best balance of firepower, mobility, protection, and ruggedness of any tank (though its initial battlefield effectiveness suffered due to a variety of factors). Its 76.2 mm high-velocity gun was the best tank gun in the world at that time. Its heavy sloped armour was impenetrable by standard anti-tank weapons, and it was very agile. Though its armour and armament were surpassed later in the war, when they first encountered it in battle in 1941, German tank generals Von Kleist and Guderian called it "the deadliest tank in the world."
In-Game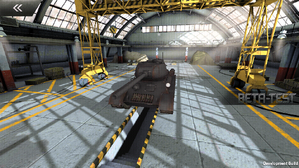 The T-34-85 is the starter tank for players in Poland and Czechoslovakia. It's regarded as somewhat over powered, given its price, but the more modern lower level tanks can overwhelm it quickly.
Trivia/Fun facts
Unlike in game the T-34/85 in real life is heavily outclassed by the Pershing pointed out in the korean war.
Despite being a war winning weapon the tank was really cramped pnoshesinsideibly due to the "revolutionary" sloped armor.
The tank was so good that the vehicle was litterally driven out of the factories after production.