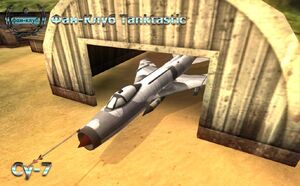 History
The Sukhoi Su-7 (NATO designation name: Fitter-A) was a swept wing, supersonic fighter aircraft developed by the Soviet Union in 1955. Originally it was designed as tactical, low-level dogfighter, but was not successful in this role. On the other hand, soon-introduced Su-7B series became the main Soviet fighter-bomber and ground-attack aircraft of the 1960's. The Su-7 was rugged in its simplicity but its shortcomings included short range and low weapon load. The Su-7 saw action in Egypt and in India. The Su-­7 began life as early as 1953 (the final year of the Korean War), to which the Sukhoi OKB firm was reestablished and charged with finding an answer to the North American F-­86 Sabre jet fighter. The American jet effectively "stole" the Korean War away from the North Korean/Chinese/Soviet conglomerate, matching wits with the highly­prized Soviet­made Mikoyan­Gurevich MiG-­15 "Fagot" single­seat, single engine, swept­wing jet fighter.
Ad blocker interference detected!
Wikia is a free-to-use site that makes money from advertising. We have a modified experience for viewers using ad blockers

Wikia is not accessible if you've made further modifications. Remove the custom ad blocker rule(s) and the page will load as expected.