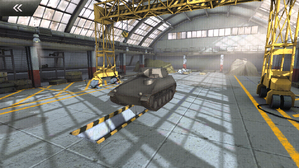 History
The Spähpanzer SP I.C. was the experimental model of a reconnaissance tank with anti-tank component, built on the IFV short. It was developed by Hotchkiss and Klockner-Humboldt-Deutz to materialize a light recon vehicle with an anti-tank gun to compete with Cold War tanks. This German light tank is fast with a powerful gun for a light tank, and it's suitable for all beginners.
Usage
The Spahpanzer SP I.C. is devilishly fast, but has low health and low armor since it is a light tank. This tank's speed can be used to make various maneuvers when in close quarters combat so that the opponent has a hard time to actually point their gun and shoot the SP 1.C. This tank is great against tanks that do not have a turret or have a slow hull traverse speed. Due to its great speed and agility, the Spahpanzer SP I.C. is excellent for quickly capturing flags or controlling points in their corresponding gamemodes.
Pros and Cons
Pros:
Gun has good alpha damage, great DPM
Gun depression is acceptable
Cons:
Horrible accuracy at long ranges, especially with HEAT
Speed and agility are kind of disappointing, as the tank was built to be so light
Ad blocker interference detected!
Wikia is a free-to-use site that makes money from advertising. We have a modified experience for viewers using ad blockers

Wikia is not accessible if you've made further modifications. Remove the custom ad blocker rule(s) and the page will load as expected.