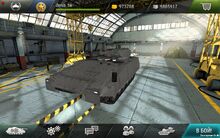 History
The Puma is a German infantry fighting vehicle (Schützenpanzer or short SPZ) designed to replace the aging Marder 1 IFVs currently in service with the Bundeswehr. The replacement began in 2010, and is scheduled for completion by 2020. Mass production began on July 6, 2009. The company responsible for the project is PSM Projekt System Management, a joint venture of Krauss-Maffei Wegmann and Rheinmetall Landsysteme. The Puma is one of the best-protected IFVs, while still having a high power-to-weight ratio. SAIC offered a derivative of the Puma as its contender in the American GCV Infantry Fighting Vehicle program.
Ad blocker interference detected!
Wikia is a free-to-use site that makes money from advertising. We have a modified experience for viewers using ad blockers

Wikia is not accessible if you've made further modifications. Remove the custom ad blocker rule(s) and the page will load as expected.