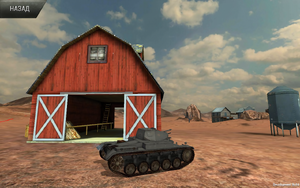 History
The Panzer II is the common name used for a family of German tanks used in World War II. The official German designation was Panzerkampfwagen II (abbreviated PzKpfw II). It was mounted with a 20 mm KwK 30 L/55 gun, which was an auto-reloading cannon. The Panzer II was supplemented by the Panzer III and Panzer IV by 1940/1941. Thereafter, it was used to great effect as a reconnaissance tank. By the end of 1942, it had been largely removed from frontline service and it was used for training and on secondary fronts. Production of the tank itself ceased by 1943, but its chassis remained in use as the basis of several other armored vehicles, chiefly self-propelled artillery and tank destroyers such as the Wespe and Marder II (not to be confused with the Marder 1 IFV).
In Game
The Panzer II cannot be bought, but can be fought in offline mode by using a tank near its level.
Ad blocker interference detected!
Wikia is a free-to-use site that makes money from advertising. We have a modified experience for viewers using ad blockers

Wikia is not accessible if you've made further modifications. Remove the custom ad blocker rule(s) and the page will load as expected.