History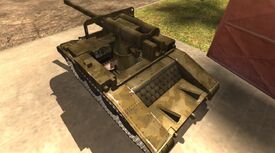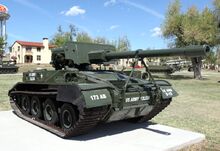 The M56 Scorpion (not to be confused with the British FV101 Scorpion) was an American tank destroyer used by the Airborne Division. It was armed with an 90 mm gun and held around ninety rounds of ammunition. The M56 Scorpion was manufactured from 1953-1959. Although the vehicle was made in the United States, it is used more by Spanish Navy Marines and the Republic of Korea.  The vehicle had a crew of four and weighed around 6.4 tons empty and around 7.7 tons combat-loaded. It had no equipment to keep the crew alive in radiation or polluted air, as it was mainly used for chemical and nuclear warfare. It was also not amphibious. It was powered by a 200 horsepower engine and could go up to 28 mph (45 kph). It had a range of 140 miles (225 kilometers) before the need of refueling takes affect.
Pros and Cons
Pros
Powerful gun can rip apart vehicles with much thicker armor.
Fast reload.
Decent speed allows you to change positions fast.
Low profile allows you to stay hidden.
Cons
Limited gun traverse.
Paper thin armor.
Ad blocker interference detected!
Wikia is a free-to-use site that makes money from advertising. We have a modified experience for viewers using ad blockers

Wikia is not accessible if you've made further modifications. Remove the custom ad blocker rule(s) and the page will load as expected.