History
The M44 was an American-made non-turreted self propelled howitzer, mounted on the M41 Walker Bulldog light tank chassis. The tank was first introduced in the early 1950's. Flaws in its designed prevented it from seeing action in the Korean War, but the tank went on to serve in the U.S., Italian, and British Armies in the 1960's. It was served even longer under the Turkish service as well.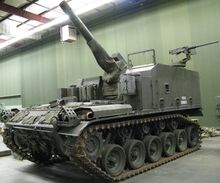 Towards the end of the Korean War, the U.S. Army sough to replace the M41 Howitzer Motor Carriage with the M44, which used the drive train of the recently introduced M41. The M44 was to have an enclosed gun compartment, giving the five man crew some armor protection even when firing the cannon. The 155 mm cannon had a modified recoil system that was more compact and put all of the cannon under the armor except the top of the barrel, along with 24 rounds of ammunition.
Pros
High damage potential
Can shoot over buildings or high terrain
High HP
Can load between HE and AP rounds
Cons
Slow reload time
No armor
limited gun rotation
Can't engage opponents at very close ranges
Cannot engage aircraft
Ad blocker interference detected!
Wikia is a free-to-use site that makes money from advertising. We have a modified experience for viewers using ad blockers

Wikia is not accessible if you've made further modifications. Remove the custom ad blocker rule(s) and the page will load as expected.