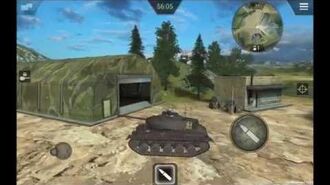 The M41 Walker Bulldog is an American light tank that was built to replace the M24 Chaffee, and was in service from 1953 to the late 60's. It was armed with a long-barreled 76 mm gun and had up to 38 mm of armor. The tank was very fast, as it could reach speeds up to over 70 kilometers an hour. The M41 was an agile, but well armed vehicle. On the other hand, it was noisy, fuel-hungry, and heavy enough to cause problems with air transport. In 1952, work began on lighter designs (T71, T92 Light), but those projects came to naught and were eventually abandoned. The M41 chassis was used for the M42 Duster and the M44.
The Walker Bulldog saw limited combat with the U.S. Army during the Korean War, but for the most part, the conflict served as a testing ground to work out the tank's deficiencies, especially with its rangefinder. At the time, it was designated as the T41, and was rushed to the battlefield even before its first test run. This was due to the fact that the North Koreans were supplied with Soviet T-34 tanks, which were superior to the Chaffee. By 1961, 150 Walker Bulldogs were delivered to the Japan Ground Self-Defense Force to supplement their Type 61 medium tanks. Later with conflict rising in Vietnam with appearances of tanks such as the T-54 and PT-76, the Walker Bulldog was an instant success for the South Vietnamese army. Though the tank was obsolete in 21st century standards, the tank still is in service in some countries in the present day.
Ad blocker interference detected!
Wikia is a free-to-use site that makes money from advertising. We have a modified experience for viewers using ad blockers

Wikia is not accessible if you've made further modifications. Remove the custom ad blocker rule(s) and the page will load as expected.