History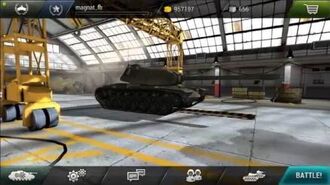 The M103 heavy tank served the United States Army and the United States Marine Corps during the Cold War. Until the development of the M1 Abrams in the mid-1970's, it was the heaviest and most heavily armed tank in US service. The M103 was manufactured at the Detroit Arsenal Tank Plant and the first units were accepted in 1957. The last M103 tanks were withdrawn from service in 1974, and it was the last vehicle that was designated as a heavy tank to ever be made by the United States.
Game play
The M103 is the second branch of heavy tanks that can be chosen, unlike the M48 Patton the M103 focuses more on high health and larger damage. The M103 should be used as a frontal assualt tank which takes the most punishment, the M103 is slow and is vulnerable to flanking so it is best to have a teamate to support yu.
Pros and Cons
Pros
High HP
Heavy sloped armor
Devestating gun can do substantial damage to opponents
Cons
Sluggish speeds
High profile
Slow turret rotation
Ad blocker interference detected!
Wikia is a free-to-use site that makes money from advertising. We have a modified experience for viewers using ad blockers

Wikia is not accessible if you've made further modifications. Remove the custom ad blocker rule(s) and the page will load as expected.