History
In 1948, the IS-7 heavy tank was developed. Weighing 68 metric tons, thickly armoured, and armed with a 130 mm S-70 gun, it was the largest and heaviest tank ever tested by the USSR. Although it was in many ways an innovative design, it was never accepted for mass production due to its cumbersome size and the very impractical layout of its fighting compartment, as well as the fact that if the tank were to cross over bridges, the bridge would collapse because of its tremendous weight. Thus, the armour protection could be enhanced without having to use excessive amounts of materials. However, if the pike nose was shot in at a sideways angle, it would not have a relative thickness high enough to ricochet the shell. In spite of its weight, it was easy to drive due to numerous hydraulic assists. Its armor could repel the shots of high tier German vehicles and also shots from a 130 mm gun.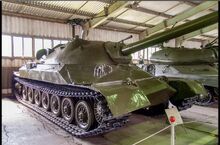 In-game
The IS-7's main advantage is its very heavy armor and powerful gun. Like all tanks in game the front of vehicle is always has the most armor, for the IS-7 the front has a piked shape improving the armor protection from the front. But, its main disadvantage is its slow top speed, which can prove difficult when climbing steep hills. Many experienced players will take advantage of the IS-7's slow speed by circling or flanking it for it's more lighter side and rear armor. Another disadvantage of the IS-7 is its high profile, it does not support the fact that the game adds a tall gun mount to add to its tall height. The IS-7 is backed up with a heavy gun which can wipe out most enemy targets, that is if the turret can point to it in time.
Pros and Cons
Pros
Good which can hold up to heavy fire.
Heavy gun can obliterate enemy vehicles.
Large health pool allows better chance of survival.
Can use APDS rounds.
Faster than its lower teir counterparts.
Cons:
Sluggish speed.
High profile probably due to its tall machine gun mount.
Slow turret traverse.
An fully upgraded IS-3 has more armor than IS-7 even when fully upgraded