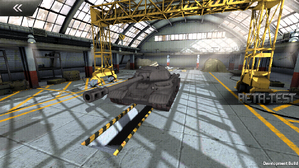 History
There are two different tanks known as IS-4. One of these (Object 245) was an IS-2 rearmed with a long 100 mm D-10T cannon. The other IS-4 was a new vehicle projected by LKZ in parallel with the IS-3 (Object 703) by the same design and development bureau. For this second IS-4, the IS-2 hull was lengthened with an extra set of road wheels added and an improved engine. Both the hull and turret armor were increased as well. Several alternative armaments were explored in paper studies, but ultimately the IS-2's original 122 mm gun was retained. An effort was also made to make use of technical data derived from study of the German wartime Panzer V Panther medium tank, which influenced the layout of the second IS-4's engine cooling system. The tank was approved for mass production from 1947 to 1949, but due to disappointing speed and mobility only 250 were built. Most of these were transferred to the Russian far east. In 1949, production was cancelled and later these tanks were removed from service.
In-game
In-game, the IS-4 has an quite high health pool, comparing with other tanks of its level.The armor is reducing the high amount of it. The IS-4 has a slow speed and the reloading time of 3.8 seconds is quite slow. However, the damage which it can deal to opponents is high, 70-90 hp damage. The slow turret rotation is problematic, but by turning your chassis togheter with your turret, it will be more difficult for the enemy to circle around you. The sides and rear do have the weakest armor of this tank, so try to cover the most of if possible. The front is better armored, so when facing an opponent, try to face it with the front. The low maneuverability cause the most problems. The aim is medium, and is good to use in close combat. In large scale combat, the accuracy is going slightly down how more far you aim.
Trivia
The IS-4 has been argued to be underpowered by many players, along with the IS-3, and most proponents to buffing the IS-4 agree to have it perform more similarly to the T-10
Pros and Cons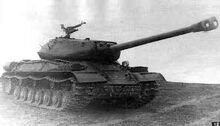 Pros:
Excellent frontal hull and turret armor, very well angled as well
Low profile
Cons:
Much lower health pool than that of the IS-3
Second worst DPM in the game, after the IS-3 (excluding WWII Premiums and T-34/85)
Can only use armor piercing and high explosive ammunition
Ad blocker interference detected!
Wikia is a free-to-use site that makes money from advertising. We have a modified experience for viewers using ad blockers

Wikia is not accessible if you've made further modifications. Remove the custom ad blocker rule(s) and the page will load as expected.