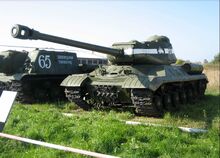 History
The KV-1 was criticized by its crews for its poor mobility and lack of any heavier armament than the T-34 medium tank. It was much more expensive than the T-34, without having greater combat performance. This lead Moscow to order a portion of KV-1 assembly lines to shift to T-34 production, which fed into fears that KV-1 production would be halted and the SKB-2 design bureau led by Kotin closed. In 1942, this problem was partially addressed by the lighter, faster KV-1S tank. The production of the KV-1S was gradually replaced by the SU-152 and ended completely on April 1943. However, the capture of a German Tiger tank in January 1943 led to a decision to develop a new heavy tank, which was given the codename Object 237.
In response to intense tank fighting in the summer of 1943, while the Object 237 was still in development, Dukhov's team was instructed to create a stopgap KV tank, the KV-85, which was armed with the 52-K-derivative gun of the SU-85, the 85 mm D-5T that proved capable of penetrating the Tiger I from 1000 meters. The KV-85 was created by mounting an Object 237 turret on a modified KV-1S hull. This necessitated increasing the diameter of the turret ring by adding fillets to the sides of the hull. The radio operator was removed and in his place was inserted an ammo rack for the larger 85 mm ammunition. The hull MG was then moved to the opposite side of the driver and fixed in place to be operated by the driver himself. Soviet industry was therefore able to produce a heavy tank as equally well armed as the Tiger I before the end of 1943. There was a short production run of 148 KV-85 tanks, which were sent to the front beginning in September 1943 with production ending by December 1943. The complete Object 237 prototype, itself an evolution of the cancelled KV-13, was accepted for production as the IS-85 heavy tank. First deliveries were made in October 1943 and went immediately into service. Production ended in January 1944. Its designation was simplified to IS-1 after the introduction of the IS-122, which itself was redesignated to IS-2 for security purposes.
Not Yet Here
IS-1 is a WWII tank so it is not likely to be buyable for some time. It will most likely become a prize for the WWII league.