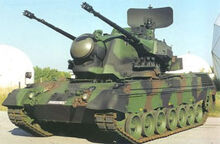 History
The Flugabwehrkanonenpanzer Gepard ("anti-aircraft cannon tank Cheetah", better known as the Flakpanzer Gepard) is an autonomous, all-weather-capable German self-propelled anti-aircraft gun (S  PAAG). It was developed in the 1960's and fielded in the 1970's, and has been upgraded several times with the latest electronics. It constituted a cornerstone of the air defense of the German Army (Bundeswehr) and a number of other NATO countries. 
In-Game Use
The Flakpanzer Gepard won't be in the game till V2.0. It will behave similarly to a Leopard 1 in respects to speed and agility, but with an AA turret instead.
Ad blocker interference detected!
Wikia is a free-to-use site that makes money from advertising. We have a modified experience for viewers using ad blockers

Wikia is not accessible if you've made further modifications. Remove the custom ad blocker rule(s) and the page will load as expected.