The BTR-4 "Bucephalus" (BTR; Бронетранспортер/Bronetransporter, literally "Armored Transporter") is a 8x8 wheeled armored personnel carrier (APC) designed in Ukraine by the Kharkiv Morozov Machine Building Design Bureau (SOE KMDB) as a private venture. The prototype was unveiled at the Aviasvit 2006 exhibition held in Ukraine in June of 2006. On 4 June 2014, company officials revealed that the BTR-4E was being used in military operations in the Slaviansk area. Its armor had withstood hits from large-caliber machine guns, counter-HEAT side screens protected the crew from anti-tank grenade launchers, and armored glass sustained direct hits from sniper rifles.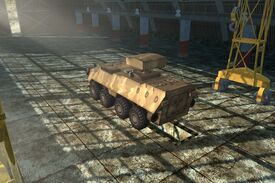 BTR-4s that are actually being used by Ukrainian armed forces in the ATO operations come from the rejected batch for the Iraqi army. They were found with rust and damaged hulls and thus never accepted by Iraq. Likewise, Azerbaijan refused to purchase the BTR-4 over welding flaws and difficulty in transporting them. Their original desert camo as seen on Iraqi BTR-4s can be noticed in pictures and videos from ATO operations. Two Ukrainian BTR-4s were captured by the pro-Russian separatists in a repairable state.The Iraqi army used the BTR-4 in an operation to recapture Jurf Al Sakhar from ISIL forces on October 24, 2014, successfully repelling two road-side ambushes.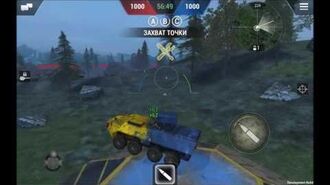 Ad blocker interference detected!
Wikia is a free-to-use site that makes money from advertising. We have a modified experience for viewers using ad blockers

Wikia is not accessible if you've made further modifications. Remove the custom ad blocker rule(s) and the page will load as expected.