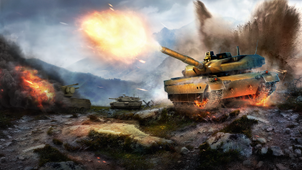 Tanktastic is a free 3D PvP massive multiplayer online action game developed by G.H.O.R. Corporation that brings the excitement of a console game to your mobile device. Being an ongoing venture of its inspired creators, Tanktastic is constantly updated with new and compelling features, including tank models, game modes, and battle terrains.
It runs on both iOS and android.
Play store: https://play.google.com/store/apps/details?id=ghor.games.tanktastic&hl=en_GB
Apple store: https://itunes.apple.com/gb/app/tanktastic-3d-tanks-online/id613078505?mt=8
Play and socialise with an international community since Tanktastic supports many languages including English, Chinese, French, German, Italian, Japanese, Korean, Polish, Portuguese, Russian, Spanish, Turkish, Ukrainian, Vietnamese and with more to be added in future updates.
Features: - over 95 tank models from М26 to "Black Eagle";- up to 16 players in each battle - 10 battle maps with hills, constructions, rivers, open plains, ravines and trees; - high­quality 3D graphics and real­time team battles; - unique camouflage and various kinds of armaments; - aircrafts and helicopters; - impressive sound effects; - challenging game modes that include "Deathmatch", "Team deathmatch", "Capture the Flag" and "Control Points"; - the possibility to use joysticks and customize the interface; - 24/7 voice chat with users from all over the world; - leaderboards and achievements; - and even more.
There is a lot planned for the future so join the millions which have played Tanktastic and dominate the battlefield in your tank.