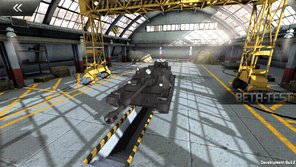 History
The ASU-85 is a soviet-designed airborne self-propelled gun of the Cold War Era. From 1959, it replaced the open-topped ASU-57 in service but was in its turn replaced by the BMD-1 from 1969. The Soviet Airborne Forces used the ASU-85 in airborne operations. Its primary role was light infantry support or assault, with limited anti-tank capability. Each Airborne Division had one assault gun battalion with thirty-one ASU-85s, and the Polish had an equal number of them as well. During the Soviet-Afghanistan War, the ASU-85 was used in combat by the Soviet Airborne troops. In early 2016, Vietnam expressed interest in an upgrade package for the ASU-85 that includes more powerful powerpack that increases the road speed. Former operators of the ASU-85 are East Germany, Poland, and the Soviet Union. It is still currently operated by Vietnam.
In-game
As the ASU-85 is bereft of a turret and is fairly sluggish, but has a great gun, it performs the best in small maps. The high DPM can take out enemies quickly, especially when the vehicle is top-tier. When playing in larger maps, it is recommended to undertake the "shoot and scoot" strategy (basically identical to the strategy that is recommended for missile-armed destroyers). This is because the ASU-85 has terrible armor all-round, although its frontal armor is angled very nicely.
Pros and Cons
Pros:
Very powerful gun, great DPM
Frontal armor is very well angled, making thin armor more effective
Traverse speed is well enough to still be pretty competitive
Low profile
Cons:
Horrible armor other than the front
Tracks get damaged easily
Horrible gun depression
Slow speed, agility is lacking as well
Ad blocker interference detected!
Wikia is a free-to-use site that makes money from advertising. We have a modified experience for viewers using ad blockers

Wikia is not accessible if you've made further modifications. Remove the custom ad blocker rule(s) and the page will load as expected.