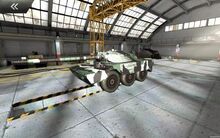 History
The AMX-10RC is a wheeled and heavily armed version of the AMX-10P combat vehicle. The AMX-10RC should not be confused with the AMX-10P; they share automotive components but otherwise have completely different battlefield roles. The AMX-10RC is amphibious and has very good mobility. It is usually used for reconnaissance missions in dangerous environments or for fire support. Initial work on the AMX-10RC began in 1970 with production beginning in 1976, and the first production vehicle was delivered in 1981 to the 2nd ''Regiment de Hussards'' in Sourdun. The vehicle features a powerful GIAT 105 mm gun mounted in a welded aluminium turret. The turret also serves to house three crew member while the driver sits in the front of the hull, and the COTAC fire control system is provided for gun aiming. All six wheels are driven, and the AMX-10RC uses skid steering to turn the hull.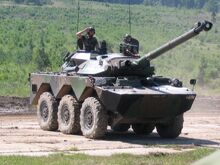 Ad blocker interference detected!
Wikia is a free-to-use site that makes money from advertising. We have a modified experience for viewers using ad blockers

Wikia is not accessible if you've made further modifications. Remove the custom ad blocker rule(s) and the page will load as expected.