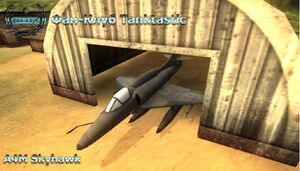 History
The Douglas A-4 Skyhawk is a single seat carrier-capable attack aircraft developed for the United States Navy and United States Marine Corps. The delta winged, single-engined Skyhawk was designed and produced by Douglas Aircraft Company, and later by McDonnell Douglas. It was originally designated A4D under the U.S. Navy's pre-1962 designation system.
A-4M Skyhawk II
Dedicated Marine version with improved avionics and more powerful J52-P-408a engine with 11,200 lbf (50 kN) thrust, enlarged cockpit, IFF system. It was later fitted with Hughes AN/ASB-19 Angle Rate Bombing System (ARBS) with TV and laser spot tracker. A total of 158 of them were built.
Ad blocker interference detected!
Wikia is a free-to-use site that makes money from advertising. We have a modified experience for viewers using ad blockers

Wikia is not accessible if you've made further modifications. Remove the custom ad blocker rule(s) and the page will load as expected.