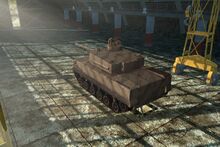 History
The 2S31 Vena (Russian: 2С31 Вена) is a Russian self-propelled 120 mm mortar/cannon. "2S31" is its GRAU designation. It is mounted on the chassis of the BMP-3 infantry combat vehicle. It was developed by Joint Stock Venture "Plants of Motovilikha" (Russian: ОАО "Мотовилихинские заводы"). The weapon system is equipped with a digital automated fire control system, navigation system, and optical/electronic reconnaissance and target acquisition system. Mortar mines (up to 7.2 km range) and cannon shells (up to 13 km range) can be used, including guided, HEAT, smoke, and thermobaric munitions. The total mass of the system is 19.1 tons.
Ad blocker interference detected!
Wikia is a free-to-use site that makes money from advertising. We have a modified experience for viewers using ad blockers

Wikia is not accessible if you've made further modifications. Remove the custom ad blocker rule(s) and the page will load as expected.